2009 Project Bike
Revised 12-28-2009
Background
In the fall of 2007 I purchased a wrecked 1981 GL500I motorcycle: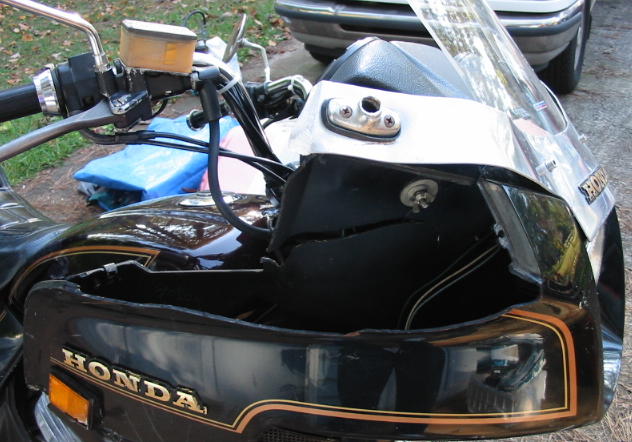 This model, designated as the Interstate, came from the factory with a touring package that included a full fairing and hard saddlebags. These items were destroyed in the wreck. My other bikes were all configured as Interstates so I decided to rebuild this one as a naked bike for something different. After several months, the project was completed.


The results were most gratifying. The bike was ridden many fun-filled miles over the next year and it generated numerous smiles in the process.
As I've always favored black-colored bikes, the thought of painting this one soon became irresistable. Pieces were gathered together and prepared for painting.


About this same time several GL650's were showing up regularly on Craigslist. Hmmm, if a naked GL500 was so much fun just imagine what a naked GL650 would be like with the additional horsepower... you can guess where this was heading.
Basket Case
David W. of Appleton, WI is a good friend and fellow GL enthusiast. In addition, David is widely recognized as an expert on these bikes. A few years ago he purchased a GL650 Interstate in pieces. Its previous owner, deceased, had disassembled the bike to replace the starter clutch but never finished the job. For that and other reasons, the GL650 was dubbed Basket Case.
David reassembled Basket Case and performed many restoration actions in the process, including but not limited to replacing the steering head bearings, water pump mechanical seal, rebuilding the brakes using stainless steel lines, and having the carburetors rebuilt by Larry, LRCXed. He rode it for some time after it was reassembled. In the summer of 2009, David mentioned in one of his forum posts on the Honda CX500 and GL500 Forum that he had a GL650 for sale. I sent an email to David and learned he was selling Basket Case. Soon we had struck a deal. All I had to do was get it home.
After exploring several options, a decision was made to rent a U-Haul trailer and make a road trip to pick it up. I left home shortly after noon on a Friday, spent the night in Paducah, KY, and arrived at David's house late the following afternoon. We loaded the bike onto the trailer, went out for some really great pizza, and talked bikes until time for me to retire to bed. I departed the next morning at 4 AM and drove non-stop back home, arriving around 11 PM.
Here is a photo taken at a rest stop in Illinois.