2012 Alaska Trip
Revised 12-21-2012
In 1990 I took a solo motorcycle trip to Alaska. That epic adventure made a lasting impression on me and I often envisioned doing it again. Finally, 22 years later, things came together again so that a follow-up trip could be taken.
This is the overall route taken in 2012.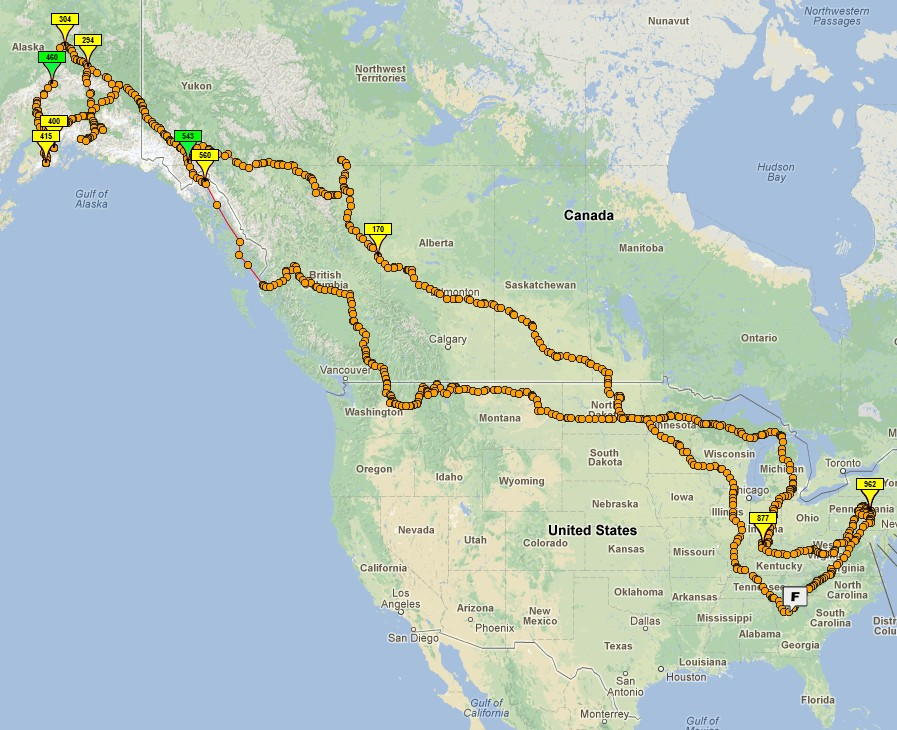 A SPOT Satellite GPS Messenger was taken along on the trip so that family and friends could monitor my progress. It was set to operate in the track mode while riding. A map showing track points for the trip can be viewed here. When viewing the map, the History pull-down box may need to be adjusted to display the range of dates of interest.
Departure was from my home near Atlanta, northward to the start of the Alaska Highway, and on to Fairbanks, Alaska. This first trip segment is approximately 5,000 miles in length and took roughly two weeks to complete.
Next, two weeks were spent touring in Alaska and participating in various activities there. Stops include Talkeetna, Whittier with its famous tunnel, and Valdez.
The return trip included a cross-country ride to the HTTA 2012 Amish Rally in Pennsylvania before heading home. (Note: the 2010 Amish Rally is described here.)
At some future date this web page will be revised to become a full trip report with photos.