Packing List: Rear Seat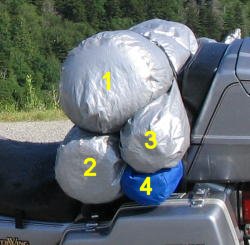 Several items are strapped to the rear seat using ROK straps. Bags 1-3 are home-made waterproof bags.
Bag 1 contains a sleeping bag and a large plastic trash bag used to store laundry. On some trips a small pillow is also stored here.
Bag 2 contains a Thermarest or similar sleeping pad.
Bag 3 contains a dome tent. My current favorite is the Cabela's Trekker Classic Dome Tent model.
Bag 4 contains a folding chair.
During the day a large 32 ounce Gatorade is usually purchased. I don't drink it all at once so the bottle is wedged between the straps and top bags. If there is a wet towel it may also be wedged here to allow it to dry while riding.