Packing List: Tankbag Main Compartment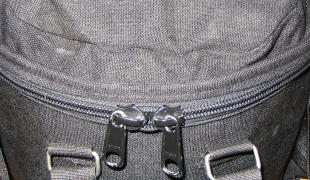 The tankbag main compartment contents are listed below.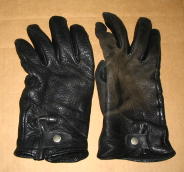 Elkskin Roper riding gloves. Used for riding in warm weather.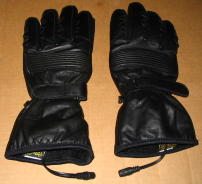 Warm & Safe electrically heated riding gloves.Used for riding in cold weather. If these and the Elkskin Roper gloves are carried on the same trip, the pair not in current regular use is stowed in the fairing interior.
Rainsuit and/or rain-proof Goretex jacket liner and pants liner.
Oversize rubber gloves. Worn over regular gloves when riding in rain.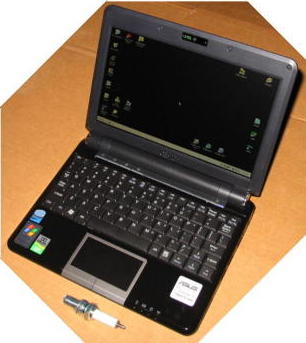 Netbook PC, this particular model is the Asus EEE PC 901. It measures only 8.8 × 6.5 × 1.4 inches and weighs approximately two pounds. It can be used to check email and to access the Internet for weather, road conditions, and camping/lodging accommodations, and to make free long distance phone calls using Skype. Offline, it can be used to plan routes with mapping software and record voice notes using the built-in microphone. Complete parts and shop manuals for the bike and countless related photos are stored in memory and can be viewed on the display.
Highlighted road atlas map pages and overall route map. The maps for the current day are located in the transparent tankbag map holder for quick viewing. The remaining maps are stored in the bottom of the main tankbag compartment. State and provincial road maps are usually picked up en route and are also stored here.
Various papers:
Trip itinerary summary sheet
Inventory listing of spare parts at home
Trip insurance papers
Emergency road service papers
Emergency information sheet
Contact information sheet
Small camcorder and accessories for recording video while riding. This package is still under development.