Stator Failure
After breaking camp I loaded up the bike and left Lubbock. About ten miles out of town I stopped for gas. It was already getting pretty hot.
When I started the bike again I glanced down at the voltmeter: 11.5 Volts - the battery was not charging. I revved the engine to 2500 rpm and the voltage dropped further to 11.4 Volts. Uh-oh, this could be really bad. The battery might last an hour or more before discharging but there was no way I would be riding far.
Reluctantly I turned around and headed back into Lubbock. Here I was, coming into a strange town over a thousand miles from home riding a dying motorcycle fully loaded with gear. And the hot sun was beating down fiercely. As I rode along my eyes searched for a motorcycle shop, any motorcycle shop. I spotted Stovall's Yamaha on my left and pulled around to their service department.
As it turned out I couldn't have stopped at a better place. After hearing of my predicament they immediately pulled my bike in to be checked. Within a few minutes it was determined that the stator had a short to ground - the same type of failure previously experienced during the pre-trip checkout. Unfortunately replacing the stator involves removing and disassembling the engine.
I was especially impressed with Ken's competence and his familiarity with my bike - it was obvious he had worked on quite a few like mine.
My options were few at this point. I could have the bike shipped home at a cost of around $600 but the problem would still have to be dealt with there. Plus I'd have to book a flight to get home. And the trip would be over. I asked if they would be willing to take on the task of replacing the stator and if so, when could they get to it. Yes, they could do it and could start as soon as a replacement stator could be obtained. They give a priority to riders from out of town who are broken down and stranded.
A few phone calls were made to Honda parts suppliers but it became obvious the stator had been discontinued and was no longer available. I phoned home and arranged to have a used Honda stator from a low mileage parts bike shipped to Lubbock overnight.
They offered to let me stow the bike and gear in an inside room adjacent to the shop, which I gladly accepted. Ken told me about a couple of motels located a few blocks away. There were also several places to eat within walking distance. So I walked away, ate lunch, and checked into a room.
After a couple of hours in the room I was getting pretty bored so I walked back to Stovall's. Since I had nothing else to do, would it be ok if I started taking the bike apart in preparation for pulling the engine? No problem, they already had plenty of other things to work on and this would help the job go faster. So I spent the afternoon disassembling the bike.
"We're old bikers here and would like to help out!"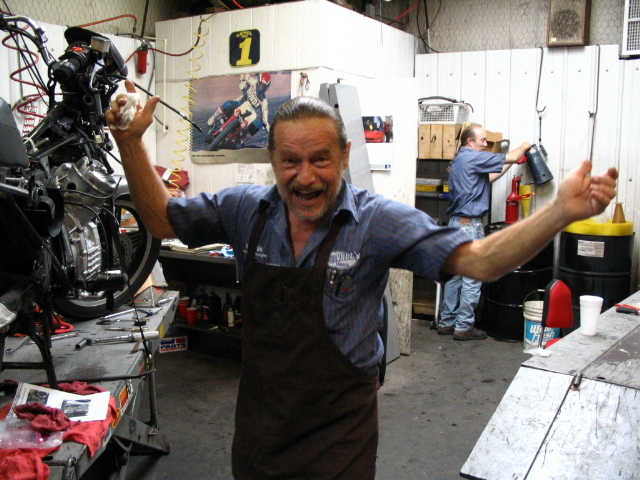 First thing the following morning the bike was rolled onto the service lift where it had the coolant and oil drained.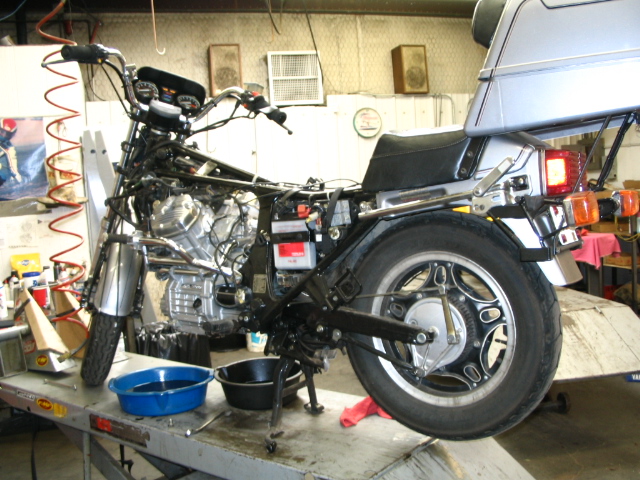 Ken has removed the engine from the frame.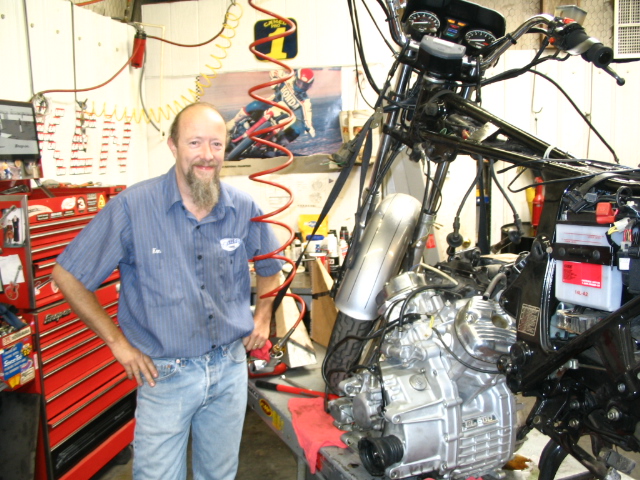 It is often difficult to separate the rear case from the rest of the engine. Some combination of finesse and gentle persuasion is usually needed. Ken has perfected the technique.


(Just kidding, this shot was posed.)
The replacement stator arrived around 10 AM.
The short circuit in the failed stator can be seen here. Additional stator failure information can be found here.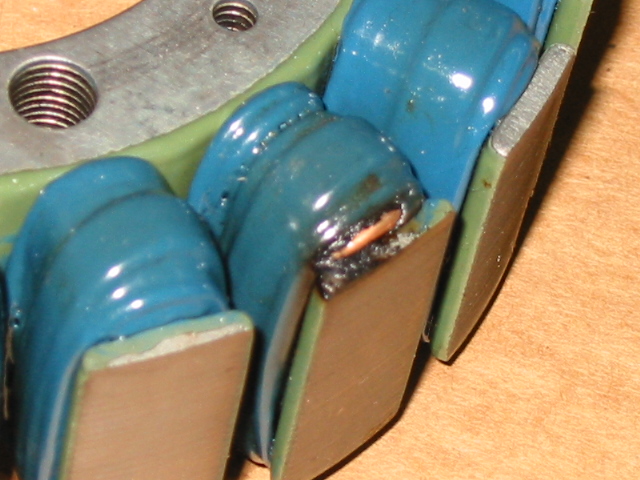 The replacement stator has been installed in the rear engine case. Ken is dressing the leads.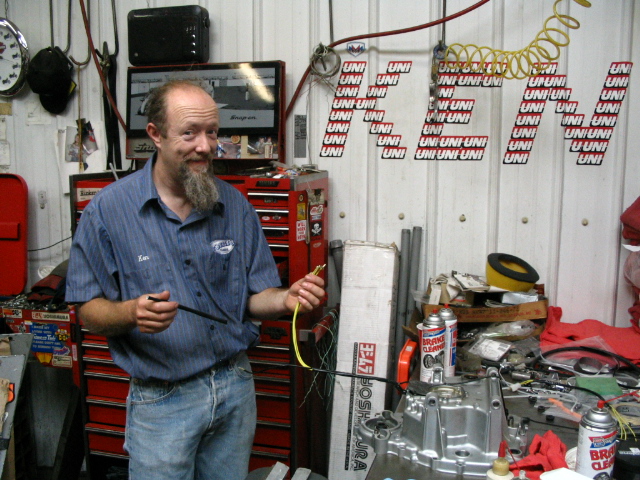 When the rear engine case was being replaced Ken recited the torque settings from memory, further confirming that he'd worked on quite a few. A Honda shop manual backed him up. I picked up several tips from him that day.
After the engine was replaced the bike was rolled into the adjacent room where I reassembled it.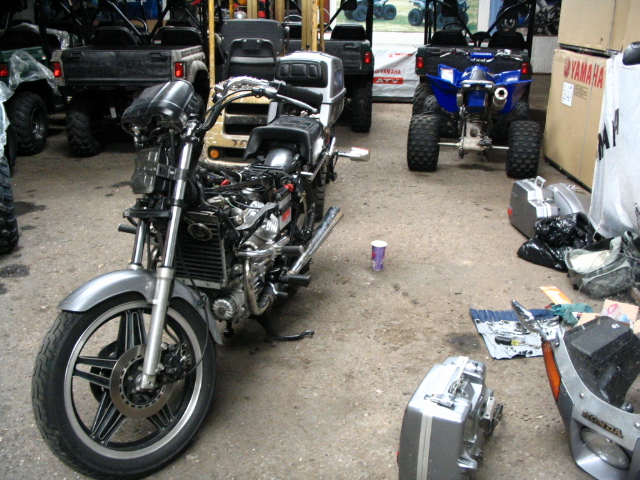 Finally the bike was reassembled and packed. Ready to go again!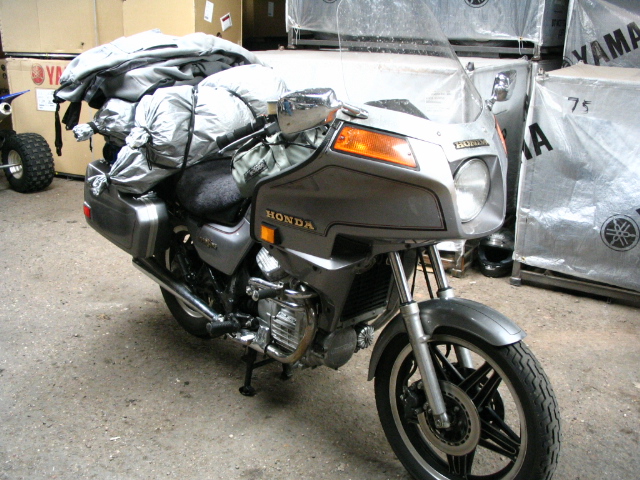 Kudos to Stovall's Water and Motorsports Inc, 227 Avenue Q, Lubbock, TX. They provided truly outstanding service and support to me in a time of need and did it for a fair price. I really can't recommend them highly enough. Thank you!!