Vacation Trip 2006
Revised 8-22-2006
In the summer of 2006 I set out on a major solo motorcycle trip.
The original planned route was to ride west from Atlanta to the Grand Canyon in AZ, and from there northward to Bellingham, WA where I would board an Alaska Marine Highway ferry to Haines, AK. The route would then cover parts of Alaska before proceeding eastward across Canada to Nova Scotia. After that the route would turn southward, including the Blue Ridge Parkway, and finally returning home. The total estimated distance was slightly over 13K miles.
The originally planned route.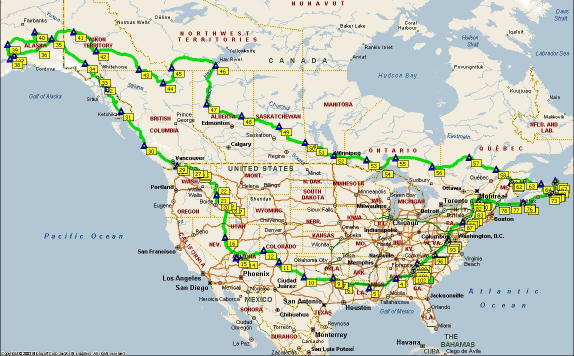 Preparations were started well over a year in advance and included assembling a motorcycle specifically for the trip. A description of the motorcycle preparation activities can be found here and photos of the finished bike can be found here.
The total trip time was estimated to take seven weeks, with a few extra float days for flexibility. The only real schedule constraint was to make the ferry connection to Alaska two weeks after departure; if this connection was missed it would be two weeks before another one would be available.
Unfortunately, events unfolded that prevented me from making the ferry connection.
This report documents those events and the revised trip.
Trip Details:
Home to Lubbock, TX
Stator Failure
Lubbock, TX to Durango, CO
Durango-Silverton Railroad
Durango, CO to Home
Home To Mt. Pisgah, NC
Mt. Pisgah, NC to Meadows of Dan, VA
Meadows of Dan, VA to Loft Mtn, VA
Loft Mountain, VA to Jonestown, PA
Jonestown, PA to Bennington, VT
Bennington, VT to Moose Brook State Park, NH
Moose Brook State Park, NH to Houlton, ME
Houlton, ME to Presque Isle, ME
Presque Isle, ME to Kouchibouguac National Park, NB
Kouchibouguac National Park, NB to Brudenell Pines, PEI
Brudenell Pines, PEI to Ingonish Beach, NS
Ingonish Beach, NS to Sheet Harbour, NS
Sheet Harbour, NS to Yarmouth, NS
Yarmouth, NS to Acadia National Park, ME
Acadia National Park, ME to Wells, ME
Wells, ME to Newburgh, NY
Newburgh, NY to Front Royal, VA
Front Royal, VA to Meadows of Dan, VA
Meadows of Dan, VA to Mt. Pisgah, NC
Mt. Pisgah, NC to Home
Conclusion